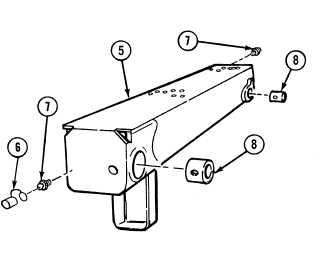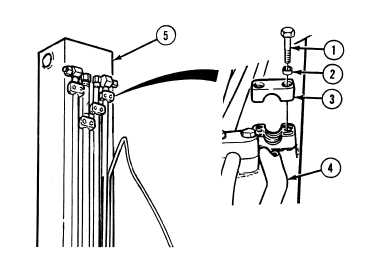 TM 9-2320-364-34-4
28-21
Materials/Parts
Grease (Item 22, Appendix B)
Solvent, Drycleaning (Item 68, Appendix B)
This task covers:
a.  Disassembly
b.   Cleaning/Inspection
c.  Assembly
INITIAL SETUP
Personnel Required
Two
Equipment Condition
Mast assembly on clean work surface
Tools and Special Tools
Tool Kit, General Mechanic's
(Item 240, Appendix F
Compressor Unit, Air (Item 35, Appendix F)
Gage Set, Telescoping (Item 69, Appendix F)
Gloves, Chemical Oil Protective
(Item 81, Appendix F)
Goggles, Industrial (Item 83, Appendix F)
Gun, Airblow (Item 86, Appendix F)
Micrometer, Outside, Caliper, Set
(Item 139, Appendix F)
Press, 60 Ton (Item 164, Appendix F)
28-5.  MAST ASSEMBLY REPAIR.
a.
Disassembly.
NOTE
Tag, mark, and note position of
tubes before removal.
(1)
Remove 16 screws (1), washers (2), 10
clamp halves (3) and five tubes (4) from
mast (5).
(2)
Remove four grease caps (6) and lube
fittings (7) from mast (5).
NOTE
·
Perform Step (3) if bushings
are  damaged.
·
There are two different
types  of weld head
configurations.   If there is a
shoulder machined  in the
weld head between the
bushings preventing the
bushings from being pressed
out, bushings must be
tapped out from inside of
weld head.   If there is not a
shoulder between bushings,
both bushings can be
pressed out  from one side.
(3)
Use hammer and brass drift to remove four
bushings (8) from mast (5).