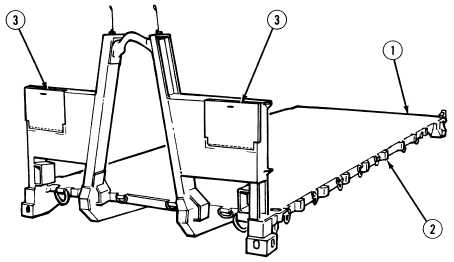 TM 9-2320-364-10
1-38     
1-21.  FLATRACK (FR).
The FR (1) M1077 accommodates a 33,000 lbs. (15 metric tons) payload and M1077A1
accommodates a 32,300 lbs. (14.6 metric tons) payload during all modes of
transportation and during all specified load/unload operations.  During Load Handing
System (LHS) load/unload operations the FR can accommodate a full payload.  The
M1077 has an empty weight of 3,200 lbs. (1,453 kg) and M1077A1 has an empty weight
of 3,900 lbs. (1,771 kg) both without side boards.  The FR can accommodate palletized,
break bulk and 20 ft. (6.1 m) ISO container payloads.  Stake pockets (2) are used to
contain and hold cargo side rails.  Stowage boxes (3) are used for storing straps, cargo
nets, etc.