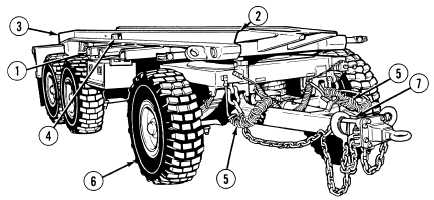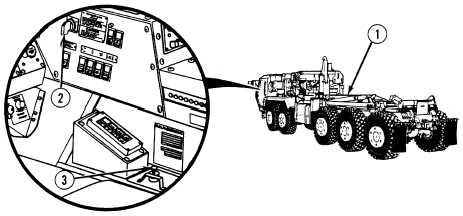 TM 9-2320-364-10
1-39
1-22.  PALLETIZED LOAD SYSTEM TRAILER (PLST).
The PLST (1) is a three axle trailer designed to carry a Flatrack (FR) with a 16.5 ton
payload.  It can accommodate both full and partial loaded flatracks.  The guides (2)
laterally position the FR on the trailer rear stops (3).  These stops prevent FR from
sliding rearward.  The FR locks (4) engage and secure the FR to the PLST.  The
intervehicular connecting cables (5) attach to the towing truck.  The spare tire carrier is
behind the first axle (6).  The PLST is equipped with a two position adjustable
drawbar (7).
1-23.  LOAD HANDLING SYSTEM (LHS).
The truck is equipped with a LHS (1) used to load/unload flatracks.  The LHS is fully
hydraulic, powered by the truck hydraulic system, and is operated by a hydraulic
selector switch (2) and a joystick (3), located to driver's right in the truck cab.