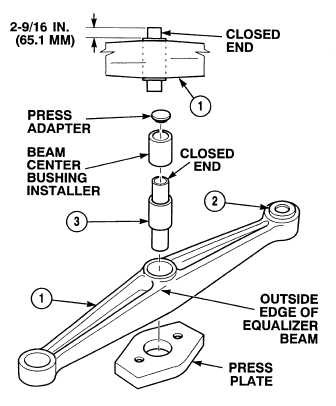 TM 9-2320-364-34-3
14-20     
14-5.  FRONT AND REAR TANDEM EQUALIZER BEAM REPAIR (CONT).
(2)
Clean equalizer beam bushing bores with crocus cloth to remove all scale, rust, and corrosion.
(3)
Inspect equalizer beam for cracks, obvious wear, and damage.  Replace if damaged.
d.
Assembly.
(1)
Coat two beam end bushings (2), beam
center bushing (3) and three bores in
equalizer beam (1) with grease.
(2)
Place press plate on press.
(3)
Position equalizer beam (1) on press plate.
Force required to remove beam
end bushings and beam center
bushing may exceed 30 tons
(27 metric tons).  Use a press of
60-ton (54 metric tons) capacity
or more to remove and install
bushings.  Use care when
pressing out bushings to prevent
serious personal injury or death.
Always wear eye protection to
prevent injury when operating
press.
NOTE
Center bushing remover tools
for front and rear equalizer
beams are very similar.  Use
larger diameter remover for rear
beams and smaller diameter
remover for front beams.
(4)
Using beam center bushing installer and
press adapter, press beam center bushing (3)
into equalizer beam (1).  Continue pressing
until beam center bushing installer bottoms
out against equalizer beam face.  Ensure that
closed end of beam center bushing extends
2-9/16 in. (65 mm) from face of equalizer
beam.